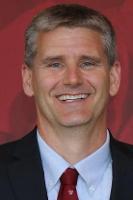 The Ulen-Brooks Coach for Harvard Men's Swimming & Diving
Kevin Tyrrell
Kevin Tyrrell enters his seventh season as The Ulen-Brooks Endowed Coach for Harvard Men's Swimming & Diving after serving as assistant coach from July 15, 2009, until August 2013.
At the helm of Harvard's men's swimming and diving program, Tyrrell has strived for excellence both in the pool and in classroom. In the past six years, he has amassed a 53-4 overall record, including a 39-1 mark against Ivy League opponents, while continuously, bringing in strong recruiting classes, which were ranked amongst the top-20 in the nation for swimming and diving.
Tyrrell has guided the Crimson to four Ivy League Championships, including back-to-back-back titles in 2016-17, 2017-18 and 2018-19. At the 2016-17 Ivy League Championships, Harvard dominated, winning by 370 points, the widest margin of victory since the Crimson's 409-point win in 1999, which earned him the distinction as the Ivy League Coach of the Year. Tyrrell again captured Ivy Coach-of-the-Year honors in 2018-19.
Under Tyrrell's leadership, Harvard has continued to grow on the national stage, climbing into the national rankings and improving its team score and place at the NCAA Championships the last two seasons. At the 2017-18 NCAA Championships, the Crimson registered its highest finish since 2001-02, placing 18th tallying 58 points. Dean Farris '20 earned All-America honors in the 200-yard freestyle and 200-yard backstroke for the second time in his career, while distance swimmers Brennan Novak '19 and Logan Houck '20 each recorded All-America honorable mention times in the 500-yard freestyle.
Twelve months later at the 2018-19 NCAA meet, Harvard finished in eighth place (132 points), which was also the Ivy League's top performance in 50 years. En route to its best NCAA finish since 1960-61, Harvard was led by Farris, who won a national title in the 100-yard backstroke and 100-yard freestyle, becoming the first Crimson swimmer to win at least two events at the NCAA meet since 1954. Farris also set the American and NCAA record in the 200-yard freestyle when he opened the 800-yard freestyle relay with a time of 1:29.15.
In his years at the helm, Tyrrell has recruited, coached, and developed two individual All-America selections (Farris, Novak), along with two All-America relays (2019: 200 free, 800 free). He has also produced four individual All-America honorable mention performers (Farris, Logan Houck '19, Mike Mosca '15, Novak) and seven honorable mention relays. Tyrrell additionally has coached a total of 82 All-Ivy selections, including 52 first-team picks as well as back-to-back-to-back Phil Moriarty High Point Swimmers of the Year (Farris in 2016-17, 2017-18, and 2018-19, and Novak in 2017-18 and 2018-19).
Outside of Blodgett Pool, Harvard has excelled in the classroom boasting the top GPA in the nation each of the past three years as well as a pair of Academic All-District recipients (Farris, Mosca), and one Academic All-America selection (Mosca). Additionally, 42 of his swimmers and divers earned CSCAA Scholar All-America recognition and five have been Ivy League All-Academic Team selections.
In addition to his coaching duties, Tyrrell is member of the Harvard Freshmen Board of Advisors, working with and advising non-swimmers each year. He was also named to the NCAA Division I Men's and Women's Swimming and Diving committee in the fall of 2017.
Before his elevation, Tyrrell led the Crimson's recruiting efforts and helped welcome recruiting classes ranked within the top-20 nationally as an associate head coach in 2010-11 and 2011-12. In his first four seasons, Tyrrell helped Harvard to a 31-4 dual meet record while celebrating 12 school records, eight Ivy League championships, nine All-Americans and 69 All-Ivy League selections.
Previously, Tyrrell, who has extensive international coaching experience, was the head coach of the U.S. Virgin Islands National Team from 2005-09, and led the team at the 2008 Beijing Olympics. In July 2009, he served as a head coach at the FINA World Championships in Rome and worked in a similar capacity at the 2007 World University Games in Bangkok, Thailand. At the Pan American Games in Brazil in 2007, Tyrrell coached seven swimmers to the semifinal round of the championships.
Prior to 2000, Tyrrell enjoyed a nine-year tenure as the head coach for the YMCA of the North Shore Sharks, achieving American Swimming Coaches Association Level 5 YMCA certification. In that position, he guided the YMCA to a 62-6 dual meet record, nine YMCA New England championships and helped the YMCA earn 32 All-America honors from 1996-2005.
A 1992 graduate of Lafayette College, Tyrrell was a two-time captain for the Leopards, leading the team to second place at the 1992 ECAC Championship. He earned a master's degree in education from Boston University in 2002, and a master's in education from Harvard University in 2015.